EXECUTIVE LEADERSHIP
Anne Sweeney, Executive Director and Co-Founder – US Office

Anne Sweeney has committed the past thirteen years of her career advocating for the rights of refugees, both in Africa and in the United States. Upon co-founding Heshima Kenya in 2007, Anne served as Co-Executive Director and focused on advocacy and development. In 2012 she assumed the Executive Director position and spent the last 18 months in Nairobi overseeing Heshima Kenya's strategic development, as well as running day-to-day operations. Today she is based in Heshima Kenya's headquarters office in Chicago. Anne has multi-dimensional experience in refugee protection and resettlement, including working as a consultant with UNHCR in Tanzania and with the US Resettlement Program in Nairobi, Kenya. She also served in various program management, research, and case management positions with community-based organizations and human rights agencies in Kenya and the United States. Anne holds a BA from University of Minnesota and a MA in International Peace and Conflict Resolution with a focus in forced migration from American University. She has led trainings on refugee protection and spoken about the specialized rights of unaccompanied and separated children at various conferences and interviews, including the BPRM Conference on the Protection of Unaccompanied Refugee Children, NBC-Chicago, the NPR Worldview radio show, and the Chicago Donor's Network Conference on International Philanthropy.
Lizzie Chongoti, Country Director - Kenya Office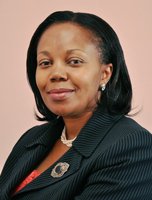 Lizzie Chongoti's career spans over twenty years of experience managing and implementing programs for NGOs in Kenya, with a special focus on education. She most recently served as Executive Director of the Hilde Back Education Fund, a scholarship program for Kenyan youth based in Nairobi. Lizzie also previously managed the Ford Foundation International Fellowships Program where she was responsible for the overall daily management of the Social Justice Program in Kenya, along with being acting head of the Kenya Film Commission. Lizzie sits on various boards in Kenya and holds a B in Education from Kenyatta University and an M Science from University of Bristol-UK, in addition to a High Diploma in Resource Resources Management.
Alisa Roadcup, Director of Strategic Partnerships - US Office

Alisa Roadcup brings ten years of experience in the field of human rights, strategic communications and fundraising to her position as director of US advocacy and development at Heshima Kenya. Alisa previously worked as communications director for The 2009 Parliament of the World's Religions and as program associate for Amnesty International's Urgent Action Network also serving as campaign coordinator for Amnesty's Stop Violence Against Women Campaign in 3 states. Alisa currently advises on campaign strategy and membership mobilization in support of the promotion and protection of women's human rights as a member of Amnesty International USA's Women Human Rights Coordination Group and since 2010 has served as vice president of the board of directors at Rape Victim Advocates. Alisa holds professional certification in Forced Migration Studies from Northwestern University's Center for Forced Migration Studies, an MA in Comparative Religions and a BA in Humanities.

---
STAFF LEADERSHIP - KENYA
Heshima Kenya's team in Nairobi is led by 26 staff, mainly female practitioners with diverse backgrounds who are dedicated to meeting the needs of vulnerable girls and young women.
Case Management Team:
Alice Eshuchi, Senior Program Manager

Alice brings over thirty years of experience supporting and counseling vulnerable populations on issues of sexual and gender-based violence, child protection, women's empowerment and reproductive health. Alice has held leadership positions with Medecins Sans Frontieres, Women Fighting AIDS in Kenya and has served as an Adult Education Officer and Teacher with the Ministry of Gender, Culture and Social Services, Kenya. She is highly trained in the implementation, monitoring and evaluation of HIV/AIDS and gender-based programs. Alice holds a degree in Adult Education and Community Development.
H. Tezera, Lead Caseworker
---
Safe House Program Team:
Caroline Sakwa, Safe House Program Manager

Caroline Sakwa is the Program Manager for the Heshima Kenya Safe House. Caroline is a trained youth counselor, a trainer for reproductive health issues, HIV/AIDS, financial literacy education and served as a volunteer facilitator with the Mathare Youth Sports Association (MYSA). Caroline has eight years' experience working in key leadership positions in a number of NGOs including Carolina for Kibera- Binti Pamoja Center, the Nairobi Youth Counseling Centre, and National Youth HIV/AIDS Theatre Outreach Program (NYATOP). She has also served on the advisory board for the Nairobi Youth Center and the Kenya Voluntary Development Association (KVDA). Caroline has a BA in Social Sciences and Human Praxis from the Catholic University for East Africa and is in the process of completing her MBA at the University of Nairobi.
Agnes Kipruto, Lead Caseworker
Ruth Guto, Medical Caseworker
---
Girls' Empowerment Program Team:
Fatuma Abdullahi, GEP Program Manager
Fatuma oversees all aspects of the Girls' Empowerment Program, managing and reporting on the education, life-skills, vocational, and income-generating projects. Fatuma brings a great deal of project management experience to the position, having served as Deputy Project Manager and Education Project Officer for Save the Children UK, as well as monitoring food aid distribution with World Food Program, and conducting media training with the BBC in Somaliland. Fatuma is also extensively trained in leadership and team building, HIV/AIDS education, and child protection. She holds a BA in Sociology from the University of Nairobi.
Beatrice Kiragu, Lead Teacher
Terry Kadaga, Early Childhood Teacher
---
Advocacy and Outreach Team:
Manal Ali Said, Community Outreach Coordinator
Manal Said has worked with community outreach in Nairobi with Mubarak for Relief and Development Organization and GIZ where her work focused on facilitating psychosocial support to vulnerable populations including refugees. With GIZ, Manal facilitated refugee support groups, conducted adult literacy courses, and conducted data collection. Manal holds a degree in Social Work from the University of Nairobi.
---
Finance and Admin Team:
Catherine Mugonya, Finance and Admin Manager
Catherine brings over 14 years of experience of accounting working with NGOs in Kenya such Enterprise Development Agency, SOS Children Villages-Kenya, and Kids Alive Kenya. Catherine holds a CPA and is currently pursuing a Master's in Business Administration and Finance from the University of Nairobi.
Phoebe Nvawira, Finance and Admin Officer
---
CHICAGO OFFICE
Jessica Brown, Grants and Advocacy Coordinator

Jessica joined Heshima Kenya in January 2012 with over five years of advocacy and research experience in the field of nonprofits. She is responsible for Heshima's advocacy work in the United States, as well as management of the grants portfolio. Jessica has a long-standing commitment to working on issues facing women and girls, both domestically and abroad. Jessica has served on the board of the Chicago Foundation for Women (CNOW), and was the CNOW Health Team Leader where she coordinated yearly activities for volunteer staff in order to impact and improve health of women and girls in Chicago. Jessica also holds a certificate for completing Northwestern University's Center for Forced Migration Studies Summer Institute: Settling Resettlement. Jessica received her BA in Psychology from the University of Dayton, and a dual Masters Degree from the University of Chicago's Harris School for Pubic Policy and the School of Social Administration.